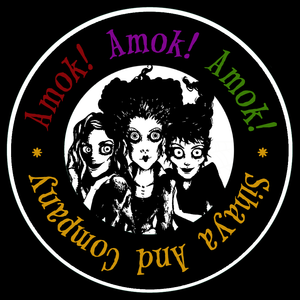 Sihaya and Company
Halloween Limited: AMOK AMOK AMOK
Regular price
$ 24.00
$ 0.00
Unit price
per
The Halloween Limited Collection is pre-made and will be restocked as time allows. There is no guarantee it will be restocked. They are crafted from three layers of complimentary scent that will change throughout the candle's life.
AMOK! AMOK! AMOK!Top / Sarah:  Spiced hot buttered cherry cider for luring in all the boys
Middle / Winnie: Poisoned blackberries and incense for casting the darkest spells
Bottom / Mary: 

The chocolate-covered finger of a man named Clark



________________________________________________
Glass tumblers: These candles measure 3" wide by 3.5" tall, and contain 9 oz of wax for a burn time of 40+ hours. They are topped with a candle-safe glittering overspray.
The glitter I 
use is safe for use in candles, and the ultrafine particles will not clog your wick.
Turnaround time for candles is 2 weeks. Due to the COVID-19 pandemic, you may occasionally receive a professionally-printed label with a handwritten scent name, similar to what is used in the Secret Menu candles. We are experiencing delays from our label printing service, and would rather not hold up your orders. If you feel strongly about receiving a particular label, please email us at sihayaandcompany@gmail.com and we will do our best to accomodate your request. 
---