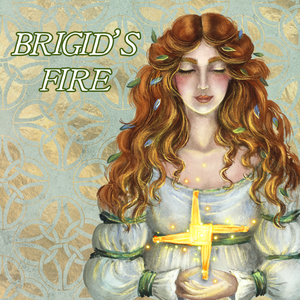 Sihaya and Company
Favorites Collection: BRIGID'S FIRE
Regular price
$ 13.00
$ 0.00
Unit price
per
At Imbolc, Brigid was venerated, both in her ancient Goddess form and in her new guise as the Christian St. Brigid. She would bring the light of the sun to the world, lengthening the days and allowing the earth to flower. Light this candle to renew your energy during the last of Winter's days, or to encourage Brigid the Bard to aid you in your creative endeavors.
Note on imagery: the symbol that Brigid is seen carrying here is the St. Brigid's Cross-- both a nod to her ancient symbol, the sun, and her new guise as a Christian saint. They were often collected from rushes and used to bless the home.
BRIGID'S FIRE: Cinnamon, clove bud, amber, tonka bean, and oak leaves. 
Scent profile: Gourmand
________________________________________________
Available in candle tin or glass tumbler format.
Tins: Our 8oz candle tin measures 3" wide by 2" deep, and holds approximately 7 oz of wax by weight. The wax is topped with an overspray of iridescent glitter. The candles burn for approximately 30-35 hours.
Glass tumblers: These candles measure 3" wide by 3.5" tall, and contain 9 oz of wax for a burn time of 40+ hours. They are topped with a candle-safe glittering overspray.
The glitter I 
use is safe for use in candles, and the ultrafine particles will not clog your wick.
Turnaround time for candles is 2 weeks. 
---