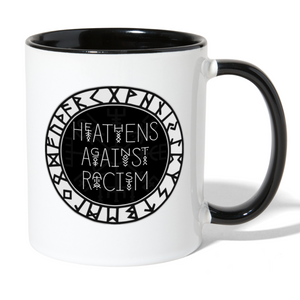 SPOD
HEATHENS AGAINST RACISM Contrast Mug
Regular price
$ 14.99
$ 0.00
Unit price
per
Say it loud: there is no room in Valhalla for racists.  Or any of the other Gods' halls, for that matter.
This "Heathens Against Racism" mug will make your feelings known about the awful white supremacist fuckwaffles who are taking our sacred symbols and using them for hate. 

Racism and white supremacy / white separatism have no place in Norse belief and Paganism, and those who espouse such beliefs are an insult to their Gods. At Sihaya & Company, we believe in racial equality and are committed to anti-racist work. We also feel strongly that racists should not be allowed to take our sacred symbols and use them for hate without a fight. 

100% of the profit made off of this item will be donated to the Black Visions Collective. 

Please note: all Swag Shop orders are fulfilled by printing partners, not by Sihaya & Company, and will be shipped separately from items fulfilled by us. Returns on these items will also be handled by those companies. 

__________________________ 


Ceramic | Capacity: 11 fl oz
Scratch-proof and durable
Dishwasher safe
Lead & Cadmium free
Imported; processed and printed in the U.S.A.
---