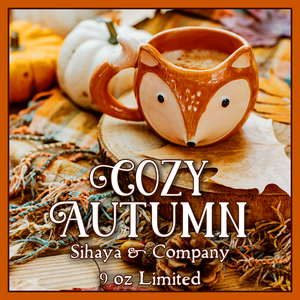 Sihaya and Company
Autumn Limited: COZY AUTUMN Layered Candle
Regular price
$ 24.00
$ 0.00
Unit price
per
The Autumn Limited Collection will be restocked as time allows. There is no guarantee it will be restocked. They are crafted from three layers of complimentary scent that will change throughout the candle's life.
COZY AUTUMN:
All of the creature comforts of the most vibrant season. Collecting leaves to press, crafting the perfect porch display, and toasting chestnuts over a backyard bonfire.
Top / Ivory: Fallen autumn leavesMiddle / Orange: Pumpkin and white amberBottom / Rust: Toasted vanilla and chestnut

________________________________________________
Glass tumblers: These candles measure 3" wide by 3.5" tall, and contain 9 oz of wax for a burn time of 40+ hours. They are topped with a candle-safe glittering overspray.
The glitter I 
use is safe for use in candles, and the ultrafine particles will not clog your wick.
Turnaround time for candles is 2 weeks. 
---