Welcome to the Sihaya & Co Blog!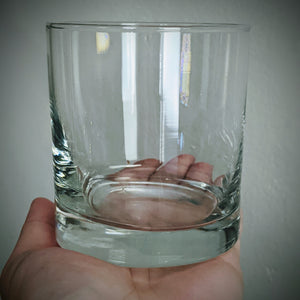 Hey everybody! Happy Sunday to everyone and Happy Easter to those who celebrate. I wanted to update folks on a development with our glass tumblers so that nobody is taken by surprise when they receive their orders!As I've previously mentioned, many of my suppliers are still experiencing pandemic-related supply chain issues. One of the major things affected has been glassware. Because of this, I have had to purchase a few cases of a different kind of glass tumbler to use. I had been using the Libbey straight sided tumbler, but as it has been out of stock for quite some time,...
---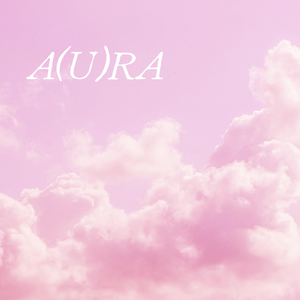 Hello everyone! It's been a busy few weeks behind the scenes here at Sihaya & Co! The collaborators on the Spring Box have been making all of those lovely products fresh so that they can be mailed out the first week of April as intended. I am in the early stages of blending the scents chosen as part of the Fans Collection (for those of you not in our Facebook Fans Group, I revived the yearly tradition of letting our fans suggest and vote on a collection of scents to be released in late April). I've also finished testing on...
---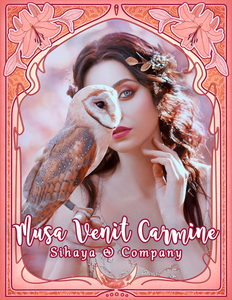 Musa Venit Carmine - The Goddess Inspires Our Song! Named after Christina's favorite Mediaeval Baebes song, this box is a celebration of the first signs of Spring and the Goddesses who bring them forth.We're delighted to bring in several of our favorite collaborators to bring this box to life. Each box will include a lip color, perfume, tea, artisan lollipops, a soap, a duet of skincare products for all skin types, and, of course, a Sihaya & Co sparkly candle. The boxes will pre-sale until March 15th or until all 50 boxes sell, and will be shipped the first week of...
---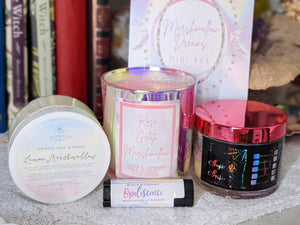 Hey everybody! I am thrilled to announce the limited mini-box is now available for purchase. Featuring a whipped soap from Buttercup Soaperie (an Ellicott City friend whose shop is on my street), a decadent layered sugar scrub from Sugar Spider (run by Brooke Perry, one of my oldest maker friends), and two products from us here at Sihaya & Company-- our Rose Petal Gelato scent in limited edition iridescent glass packaging, and a subtly shimmery lip balm with a delicious marshmallow scent. There are 24 of these boxes up for grabs, and when they're gone, they're gone!Additionally, there are three...
---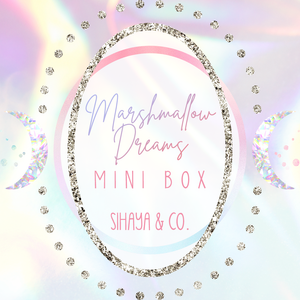 I am thrilled to announce the next project from Sihaya & Company!The Marshmallow Dreams Mini-Box will feature four products to brighten your winter doldrums. I am working with Brooke of Sugar Spider and Autumn of Buttercup Soaperie to craft a little box of comfort and sweetness.While I have traditionally offered five big boxes each year (four seasons + a Halloween box bonus), this year I have decided to add in a few mini boxes as a way to use limited edition vessels and work with even more indie vendors. Whereas the larger boxes are made-to-order and cap at 50 units, the plan...