Welcome to the Sihaya & Co Blog!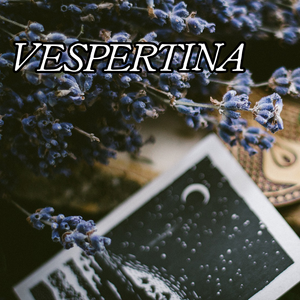 Hi friends! I have a whole lot of news to share with you today, so in true Virgo fashion, I'm going to do a numbered list! :) 1. Unfortunately, we will be saying adieu to Gardens After The Storm soon. Two of its main components were discontinued a little over a year ago, and I am coming to the end of my hoard. What is on the site right now is all that will be stocked of the scent. While my reformulation efforts have gotten close, it's not been quite right. I do have a version I really enjoy that...
---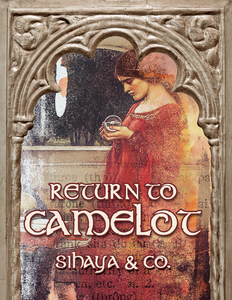 Lots of exciting news to share today!  First and foremost, the Spring Box has launched! As decided by the Facebook Fans group, the theme is Athurian legends, so pack your favorite sword and let's go questing! Return To Camelot is live!This box features some returning faves, and a newcomer, as well. There is a perfume in honor of the wily sorceress, Morgana Le Fay, from Deconstructing Eden. A rich chocolate and pistachio tea from Dryad Tea to keep you warm on your journeys. A multipurpose Bubble Wash from Luvmilk that will renew you like the Holy Grail itself. A handcrafted...
---
Hello all! I have a small update for you, but before I get to that-- First of all, thank you for all your well wishes! For those who don't know, my kiddo went back to school after the Winter break and immediately brought Covid home. I ended up having to extend my hiatus for a little over a week while we recuperated. I have less than 10 orders in my queue that are overdue, and those will be shipped within the next 48 hours. I still have a little bit of a cough, but thankfully my sense of smell is...
---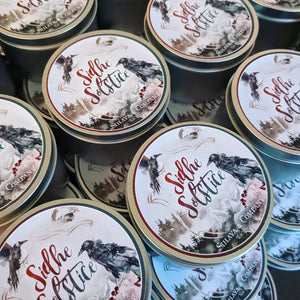 Hey friends, a quick shipping update! If you have placed an order in my shop, everything through order number #5416 will be shipped this week. In fact, you should already have a tracking number. Do not be alarmed if that tracking number does not update automatically. I'm shipping about 100 orders this week which means they will go out in batches. My aim is to have every order with a winter box in it packed tomorrow and ready to be picked up by USPS on Wednesday. Everything else should follow either on Thursday or Friday, depending on how fast...
---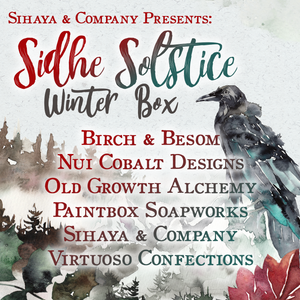 Hello all! I hope you had a very happy Halloween and a blessed Samhain if you celebrate! At Sihaya & Co, we're getting down to the business of Winter-- #makerlife! We have fun collabs coming down the pike with Poesie Perfume, Nui Cobalt Designs, and Paintbox Soapworks that should be announced in the next week or so, and our Winter collections are now out! I did something this year that I've never done before-- I let my Facebook Fans Group suggest and vote on Winter themes! Susie G. came up with the theme that became Sidhe Solstice, our take on...